Laminating
The possibilities for usage of the laminating process for graphic display and promotional areas are infinite.
Lamination methods are quick and efficient. The subject can simply be wiped clean of any grease, moisture and dirt, and therefore be used again and again.
Architects' drawings, maps, posters, sale displays, etcetera, can all enjoy the excellent protection from on-the-job wear and tear.
We provide two different lamination process, which are hot and cold lamination.
Hot Lamination: Is the most common type of lamination. The process use heat (180 degrees) to laminate documents and other flat items. The heat melts an adhesive in the plastic laminate, which sticks to the material being laminated. Hot lamination can be used with any flat items that do not include inks or materials that will run or melt when exposed to high temperatures.
Cold Lamination: Is your best option when laminating heat-sensitive documents. These would include photos, and documents printed with an ink jet printer. Cold lamination provides better UV protection than hot lamination.
Types of laminates:
Sandtex
Scratch resistant, non-gloss finish with a slight texture designed for the hardest wearing areas, ideal for floor graphics, scuffable areas where traffic his constant (like walkways in shopping centres)
An embossed PVC laminating film with a permanent pressure sensitive adhesive. Contains a UV absorber to help protect against fading due to UV exposure.
Matt
Non-reflective matt finish. Suitable for conditions where small text conditions are important, easy to read: eg architect's drawings, medical posters and trade show images where spotlights will flare up poster surfaces. UV inhibited for ultimate protection from the ravages of time.
Gloss
Reflective finish suitable for photographic images. Gloss brings out exceptional qualities to what may be a rather ordinary image. Graphic designers choose this to bring a third dimension to their prints. Photographers love the finish for retaining the photographic integrity of photographic media. Again, full of UV inhibitors for maximum protection.
Mounting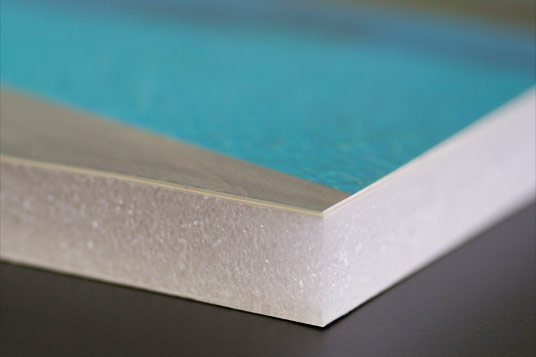 Block mounting is the process of adhering (laminating) a photograph, poster or any other printed paper onto a rigid backing board
As opposed to picture framing, where your photo, poster or other printed item is mounted within a mat, covered in glass, and surrounded by a decorative frame, block mounting / photo mounting provides a clean frameless modern look. It's light weight, and can be heat sealed with a transparent laminate for additional protection and durability.
Aside from being a popular affordable alternative to framing, block / photo mounting's extra depth, dimension, and clean frameless appearance is often preferred for many applications.
Block mounting / photo mounting / laminating mounting is perfect for:
Photograph mounting
Picture mounting
Poster mounting, (e.g., movie posters, educational posters, corporate marketing posters, inspirational posters, etc.)
Limited edition print mounting
Artwork / art mounting
Digital print mounting
Canvas mounting
Advertising mounting
Corporate displays
Retail signage and display mounting
Exhibition and trade show graphics mounting
Types of mounting substrates:
Foam boards:
available in 5mm and 10mm thicknesses. Superb for lightweight displays where a larger print requires hanging with either velcro or double-sided tape.
We suggest 10 mm thickness for sizes greater than A0.

MDF boards:
MDF is available in 5mm, 9mm and 12mm in thickness. The use is suitable for permanent display projects which need extreme accuracy in critical alignment. And it's less likely to ding when knocked by some careless burger.
Foamed PVC boards:
It's one of the most popular boards used.It's thinner, lighter and extremely smooth. Available in 3mm thickness).